The news that billionaire co-founder of online poker firm PartyGaming, Anurag Dikshit, has settled with the US Government for $300 million was bound to send shockwaves throughout the sector when th
Submitted by C Costigan on, Dec/15/2008
The billionaire co-founder of PartyGaming, Submitted by C Costigan on, Dec/15/2008
The highly respected APCW is reporting that online casino enterprise Grand Prive has shut down its affiliate program, leaving ad partners high and dry.
Submitted by C Costigan on, Dec/10/2008
Jeff Pearson, one of the original "online gambling operation scammers", has been taken into custody by Costa Rican authorities.  Pearson first set up Lucky's Casino in the late 1990's th
Submitted by C Costigan on, Dec/10/2008
A Philadelphia man has been charged with violently beating his infant son. 
Submitted by Guest on, Dec/07/2008
Holly Kaplan is angry.  The wife of BetonSports founder, Gary Kaplan, is growing impatient with the US justice system.  It's been nearly two years since her husband was incarcerated and to date t
Submitted by Jenny Woo on, Nov/25/2008
A woman has been sentenced to 10 years to life in prison for stabbing her husband-a professional poker player-to death in a Las Vegas, Nevada, USA, condominium last year.
Submitted by Thomas Somach on, Nov/24/2008
BetonSports founder Gary Kaplan's wife, Holly, recently responded to an article appearing in the St.
Submitted by C Costigan on, Nov/23/2008
Justice Frances Kiteley has sentenced ecstasy kingpin Sean Erez to 8 years behind bars after trying to deal in 4.5 kilos of cocaine, for which he was shot in an attempted robbery at a posh Toronto
Submitted by Jagajeet Chiba on, Nov/22/2008
Spring Valley police Officer David Lebron's defense lawyer today went after the character and testimony of a key prosecution witness, who had told the jury that Lebron tipped him off about pendin
Submitted by C Costigan on, Nov/12/2008
Breaking News
"We Always Bet on Black" advert has folks furious at betting firm
If you thinking using Bitcoin to conduct online gambling transactions will hide winnings from the Internal Revenue Service, you might want to think again.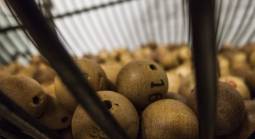 Those who enjoy the more adrenaline based games will often be the first to turn their nose up when they hear the words "online bingo" uttered.