Former online gambling billionaire Calvin Ayre pleaded guilty on Friday to a misdemeanor charge, resolving a five-year criminal case in which federal prosecutors out of the US Attorney's Office in Baltimore pursued felony charges against Ayre and the company he founded, Bodog Entertainment Group.

Ayre was widely considered the "big fish" in a multi-years investigation that netted other online gambling operators and resulted in the seizure of various Web gambling domain names, most notably BetED.com in 2011. Ayre reacquired the Bodog.com domain name as part of Friday's plea deal. Deputy Attorney General, Rod Rosenstein, oversaw the case at the time.
Ayre appeared on the cover of the 2016 Forbes Billionaire issue with the catchy headline "Catch Me If You Can". While Ayre had no control over the headline for that story, it was widely believed to have drawn the ire of the Feds. Ayre would later appear in a reality television series about himself appearing on the Fox Sports Network.
Friday's deal can be considered a major victory for Ayre as he admitted to an accessory after the fact charge related to the transmission of gambling information in violation of the federal Wire Act but had the felony charges lodged against him dropped. Felony charges against three other men linked to Bodog were also dropped Friday.
Scroll Down For More...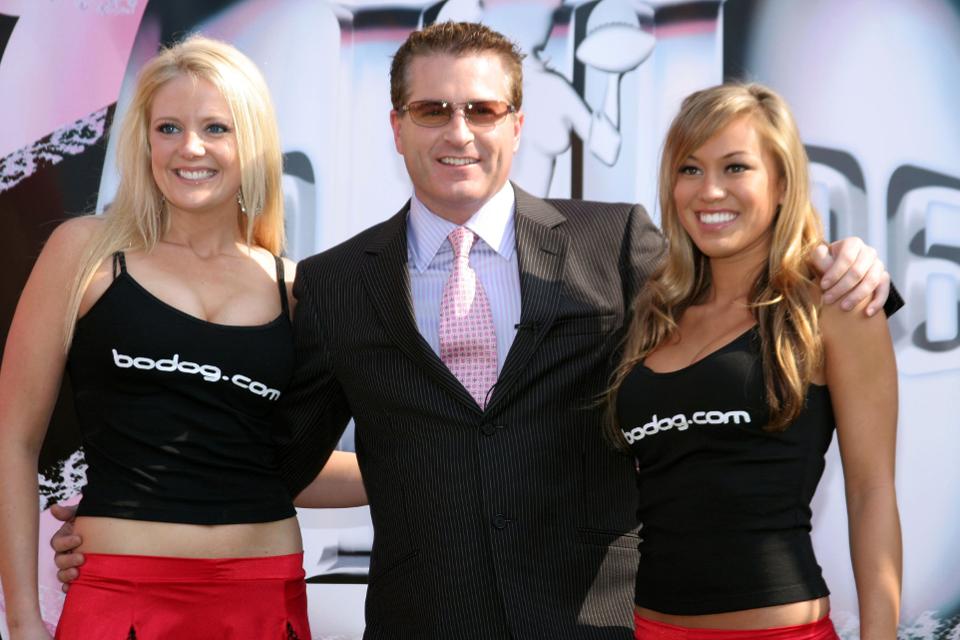 Calvin Ayre pictured with Bodog Babes during the height of his marketing success
As part of the plea deal, Ayre was to fork over $100,000 for the website, $500,000 in fines and he will receive one-year of probation.
Ayre also agreed not to make any claim against $66 million that had mostly belonged to U.S.-based gamblers and had been previously seized by federal prosecutors from payment processors in a forfeiture proceeding related to the case, according to Forbes.com, which broke the story late Friday.
Ayre has run a self-titled industry news website CalvinAyre.com, which not surpringly celebrated what can only be considered a major victory. The years immediately following the indictement against him, Ayre had been on a fugitives list that prevented him from traveling to certain countries, including the US. In recent years, however, Ayre had felt more comfortable traveling to and from his native Canada. He was widely believed to have ttraveled mostly between the Caribbean and Asia during his time fighting the charges. Bodog's offshoot, Bovada, operates from the island nation of Antigua.
Scroll Down For More..

The Calvinayre.com website provides some glimmer as to the future plans for the Bodog.com domain name, which at one time had become an industry juggernaut while also gaining some mainstream recognition.
CalvinAyre.com understands that the domain was purchased by friends of Ayre, and that the feds have placed no restrictions on its use, which virtually guarantees that the well-known domain will re-enter the gambling market in some form at some future date.
"I don't see this settlement changing anything, as I'm happy with my life the way it is," Ayre was quoted on his website. "I'll continue to focus on being an online gaming industry analyst, a tech investor and a philanthropist. But most importantly, I'm just going to continue enjoying life to the fullest."​
Translation from Gambling911.com: "I can now buy one of those fancy beachside mansions that are sprouting up in Miami Beach."
Developing...