Officials in Bangalore are blaming two small explosions that injured 14 people at an Indian Premiere League (IPL) match on an illegal betting ring.  
V.S. Acharya, home minister for the state of Karnataka, in which Bangalore is located said: "We have received credible information from intelligence sources that the betting racket is behind the blasts. We are carrying out investigations."
But Acharya also expressed uncertainty as to whether the evidence would hold up pointing to an illegal bookmaking racket.
Submitted by Alistair Prescott on, Apr/20/2010
Breaking News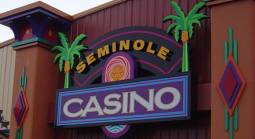 Seminole Brighton Casino will preview blackjack and other table games to its guests starting Monday, December 18.
An anti-Mafia investigation in Palermo uncovered "advanced plans" by Mafia clans to relocate their underground activities through online gaming companies in Malta, the Times of Malta is informed.