Belmont Stakes 2010 odds as published by betED.com (see website here) have three horses in
Submitted by Don Shapiro on, Jun/03/2010
Horses headed to the Belmont Stakes don't exactly exude class. Seven likely starters are seeking their second stakes win.
Submitted by Payton on, May/27/2010
Lookin At Lucky made up for his poor performance at the Kentucky Derby and has won the 2010 Preakness Stakes.
Submitted by C Costigan on, May/15/2010
Breaking News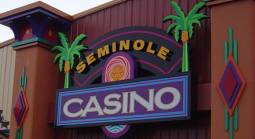 Seminole Brighton Casino will preview blackjack and other table games to its guests starting Monday, December 18.
An anti-Mafia investigation in Palermo uncovered "advanced plans" by Mafia clans to relocate their underground activities through online gaming companies in Malta, the Times of Malta is informed.