2008 College Football Betting Futures: Regular Season Win Totals
Published on:
Jul/27/2008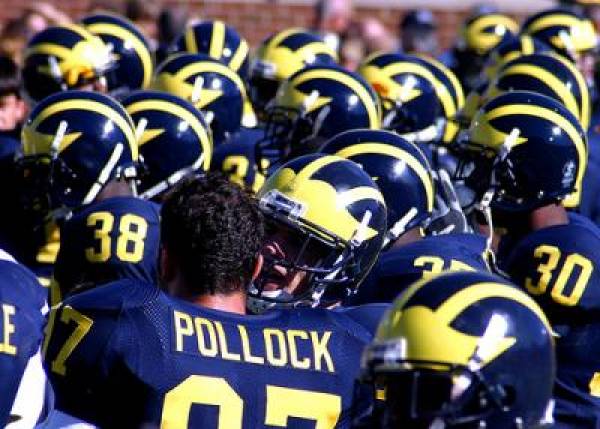 College football is just around the corner, so it is a good time to look at 2008 College Football betting futures, and more specifically season win totals. Looking at the totals this far after they have been released is mostly a frustrating situation - there isn't much value at all in the ones that seem to be the most straightforward or obvious. The only thing that makes sense to me in these situations is to look at teams that have an obvious public opinion one way that I don't necessarily share. That way you can find a nice big price that could be worth a shot, and I'd rather take a shot at a big price than a small one if my money is going to be tied up all season when considering 2008 College Football betting futures. Here are four that stand out as potentially worth a shot:
Kansas over 7.5 (+120) - I like this one a lot. I don't expect the team to match their accomplishments of last year, but I am not in love with their division, and I think that the Jayhawks can be right behind Missouri for the division lead. They return six starters on offense, and junior quarterback Todd Reesing is a year older and, hopefully, wiser. The running game needs a boost after losing Brandon McAnderson, but they have options. Of more concern, and really what could define the offense this year, is that they have to replace both of their tackles. They have options, but it's a risky proposition. The defense was very good last year, and they should be mostly as good this year. They have eight returning players, and they have several solid options to make up for their biggest loss - cornerback Aqib Talib. Kansas faces a tough schedule, but there is certainly a chance that they can pass this win mark. BetOnline.com has your 2008 College Football betting futures here
UCLA over 6 (+140) - The Bruins had six wins last year, and they were mostly terrible, so all they have to do here is match that to get their money back or do better to give us a nice return. I am willing to take a shot that they will do that based on the change in coaching staff. The addition of both Rick Neuheisel and Norm Chow to the staff is a serious upgrade to a team that desperately needed a change - especially on offense. Their quarterbacking situation is affected by injuries, but it isn't as dire as people might think. The bad news is that the rest of offense has to rely pretty heavily on freshmen in the skill positions. The good news is that they have some talented freshmen to choose from. The Defense was solid last year. They return five starters, and they have very enviable defensive line depth. The team is also helped by the fact that there could be some real weakness in the Pac-10. There is at least a decent shot at seven or more wins.
Michigan over 7.5 (+145) - Anyone who has ever read anything I have written would know that I am biased to the point of being almost blind when it comes to Michigan. With that aside, I think that people are being more pessimistic here than they need to be. It's going to be a bumpy road, and I don't think for a second that the Maize and Blue will be contending for the conference title, but eight wins is certainly more possible than this price would indicate. There are two big reasons. First, their fitness. The team has had an archaic approach to conditioning, but that has changed under the new regime. They'll be faster and stronger, and they will surprise some Big Ten opponents with that. Second, the schedule. They play three reasonably weak non-conference opponents, including a Notre Dame team that I don't believe in yet, and the dregs of the Big Ten - Northwestern, Minnesota. That could reasonably be a base of five or six wins to build on, and it isn't that far from there to eight. I'm going to be optimistic about this team anyway, but it is nice when that optimism has the potential to be nicely profitable.
After completing this article view our NCAA football bowl game odds page. If you plan on betting college football you'll also want to read our Odds on NCAA football page. Doc's Sports college football gambling tips page is and excellent college football resource as well. Since 1971 Doc's Sports has been recognized as a leader and trusted name in sports handicapping information.
Wisconsin over 9 (+135) - I think this is a great price here. The Badgers have the best tight end tandem in the country, outstanding depth at running back, and solid receivers. Senior QB Allan Everidge will likely take over the offense, and he should be able to do enough to keep things clicking given the tools he will have. The defense has some injury concerns, but they also have a ridiculous amount of talent - especially at linebacker. Outside of a game against Fresno State that could be scary the non-conference tilt is a cakewalk, and the Big Ten component has enough soft spots for them to capitalize on. If things go right for this team - and they could with their talent, depth, and coaching - then they will win nine games easily, and quite likely one or two more. There is good value here. your 2008 College Football betting futures here
----
T.O. Whenham courtesy of Doc Sports and www.sportsaudioshows.com


Check out Doc Sports, Tony George, Mike Alexander, Steve Merril, all on hot streaks with guaranteed sports selections at www.sportsaudioshows.com Your one stop shop for all your sports handicapping needs. Free Plays, stats and much more are a click away.