Affliction Banned Results and Payouts
Published on:
Jul/19/2008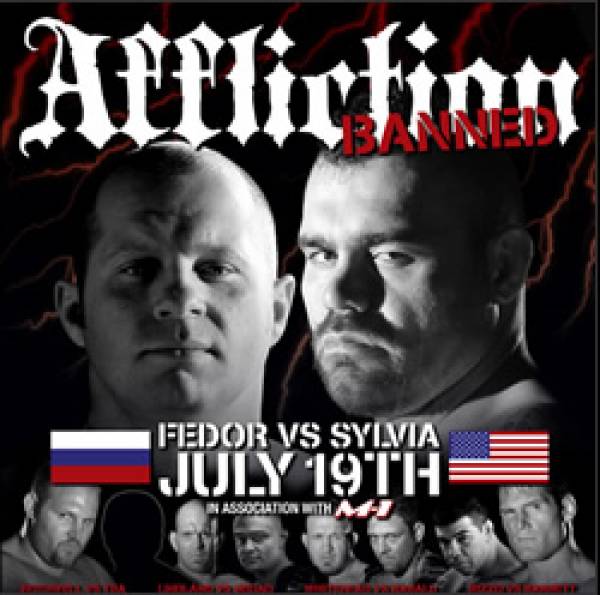 The first ever Affliction MMA event was taking place Saturday night and Gambling911.com was watching closely the Affliction Banned results to determine what types of payouts would be available to those gamblers betting big underdogs - and there were no doubt plenty of them.
Affliction is likely to have a very bright future ahead with all its major stars.  Tito Ortiz and Jenna Jameson made their entrance to ringside and received an ovation with chants of "Tito" from the surrounding crowd.
The first fight was a "no action" for gamblers since Aleksander Emelianenko was barred from fighting Paul Buentello due to a licensing issue.  Instead Buentello took on Gary Goodridge and defeated him by unanimous decision. Paul Buentello had been a +275 underdog vs Emelianenko
Vitor Belfort defeated Terry Martin via KO.  Belfort was a pretty significant favorite in this one.
Mike Pyle defeated J.J. Ambrose via submission (rear naked choke).  Payle was the favorite.
Antonio Rogerio Nogueira def. Edwin Dewees via TKO (strikes) -- Round 1, 4:06.  Nogueira was an incredible -1500 favorite at some online gambling websites.  Edwin Dewees would have paid out $700 for every $100 bet at Sportsbook.com had he somehow managed a win here.
Matt Lindland defeated big +350 underdog Fabio Nascimento via unanimous decision (30-26, 30-27, 30-27).  This one certainly had to have gamblers on the edge of their seats since Nascimento could easily have won it.
Another favorite, Renato Sobral, beat Mike Whitehead by unanimous decision, but again - this could have gone either way with Whitehead potentially paying out a sweet $220 for every $100 bet at  BetUS.com
Mark Hominick defeated Savant Young via submission (arm bar) -- Round 2, 4:25.  This was the most evenly matched up fight of the night and Hominick was an even odds favorite.  
Another big favorite, Josh Barnett, defeated Pedro Rizzo via KO (punch) -- Round 2, 1:44. Barnett was as high as a -450 favorite in this one.
Andrei Arlovksi defeated Ben Rothwell via KO (strikes) -- Round 3, 1:13.  This was the first underdog to win, paying just shy of 2/1 odds. 
Fedor Emelianenko has beaten Tim Sylvia badly.  Fedor climbed on his back and choked him out early in the first round.