Where Can I Bet the Kentucky Derby Online From Tennessee?
Published on:
May/05/2022
If you live in Tennessee and are planning on betting this year's Kentucky Derby, you may want to avoid the state-regulated websites and apps.  The reason:  They take 10% off the top as part of Tennessee's bizarre cap policy on regulated sports betting.  One can avoid this by betting with one of the many offshore licensed racebooks.  Jazz Sports has been around since 1994 and offers the best daily rebates (10%).  So intead of having 10% taken off your winnings, you get 10% added to your losses.  Not a bad deal if you ask us.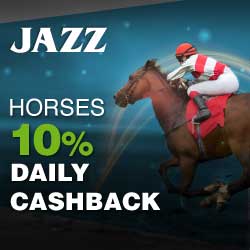 Another great thing about Jazz Sports is they won't ask for a social security number and are not obligated to report your winnings.
Those 18 and up are welcome to bet as well.
Not all the Tennesee-licensed sites are offering betting on this year's Kentucky Derby either.
For example, we are not seeing horse betting offered on that state's home grown site Action 247.
It's just assumed that US-based horse racing sites that have offered betting to Tennessee residents for years (i.e. TwinSpires) would have to follow a similar policy. 
Jazz, by the way, offers a ton of Kentucky Derby betting props in addition to the futures odds found below for this year's big race.   These odds are subject to change so be sure to check out the live odds here.
Kentucky Derby 2022 Odds
1 Mo Donegal    +1000
2 Happy Jack    +3000
3 Epicenter    +350
4 Summer Is Tomorrow    +3000
5 Smile Happy    +2000
6 Messier    +800
7 Crown Pride    +2000
8 Charge It    +2000
9 Tiz The Bomb    +3000
10 Zandon    +300
11 Pioneer Of Medina    +3000
12 Taiba    +1200
13 Simplification    +2000
14 Barber Road    +3000
15 White Abarrio    +1000
16 Cyberknife    +2000
17 Classic Causeway    +3000
18 Tawny Port    +3000
19 Zozos    +2000
20 Ethereal Road    +3000
- Don Shaprio, Gambling911.com