Where Can I Bet Gonzaga Basketball Games Online From Washington State?
Published on:
Mar/22/2023
Washington only regulates land-based sportsbooks but mobile sites are readily available nonetheless

Gonzaga was playing in its eighth straight Sweet 16 in 2023

Drew Timme was averaging 21.1 points this season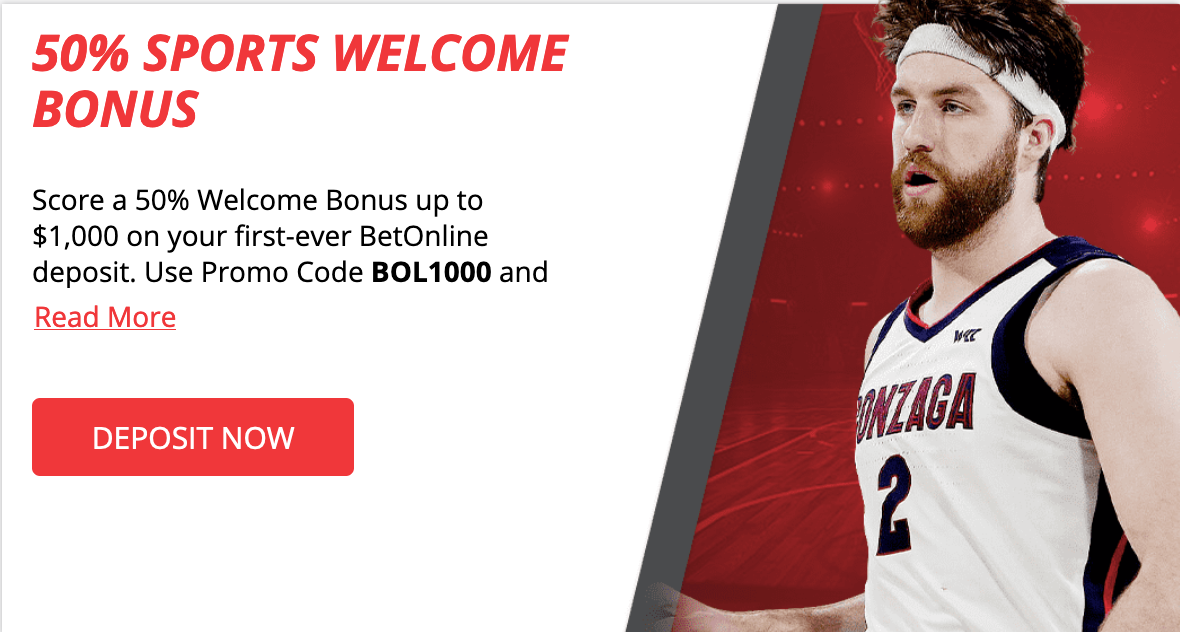 Gonzaga has made the Sweet 16 for an eighth straight year.  One of the best teams in college basketball comes into the Sweet 16 as a rare underdog of +2.  They've only been an underdog nine times since 2018. 
The Zags were getting hot at just the right time. They were entering their Sweet 16 game having won 11 straight.
Despite going 30-5 straight up on the season, Gonzaga performed poorly for sports bettors overall.  They were just 13-20-1 Against The Spread.
BetOnline welcomes those gamblers 18 and up from Washington State.  They are now approaching their 25th year in business.  While Washington regulates sportsbooks, they only do so for retail books located at tribal casinos.
The Bulldogs' record in WCC action was 14-2. Gonzaga scored 87.3 points while outscoring opponents by 14.2 points per game in 2023.
Drew Timme continued to have an impact for the Zags as he is averaging 21.1 points, 7.3 rebounds and 3.1 assists. Julian Strawther is averaging 18.4 points over the last 10 games for Gonzaga.
Gonzaga was promising a payout of $1100 on a $100 bet if they were to go all the way.
The team ultimately suffered one of the biggest defeats in the NCAA tournament thus far, an 84-52 rout at the hands of UConn. 
Gonzaga Player Props
Rot     Julian Strawther (Gonzaga) Total Points     Moneyline
801     Over  14½  Points     -120
802     Under  14½  Points     -110
Must Play
Rot     Julian Strawther (Gonzaga) Total Assists     Moneyline
803     Over  1½  Assists     -125
804     Under  1½  Assists     -105
Must Play
Rot     Julian Strawther (Gonzaga) Total Rebounds     Moneyline
805     Over  5½  Rebounds     +105
806     Under  5½  Rebounds     -135
Must Play
Rot     Julian Strawther (Gonzaga) Total Made 3 Point Field Goals     Moneyline
807     Over  2½  3pt FGs     +125
808     Under  2½  3pt FGs     -155
Must Play
Rot     Drew Timme (Gonzaga) Total Points     Moneyline
811     Over  18½  Points     -120
812     Under  18½  Points     -110
Must Play
Rot     Drew Timme (Gonzaga) Total Assists     Moneyline
813     Over  2½  Assists     -115
814     Under  2½  Assists     -115
Must Play
Rot     Drew Timme (Gonzaga) Total Rebounds     Moneyline
815     Over  6½  Rebounds     -135
816     Under  6½  Rebounds     +105
Must Play
Rot     Anton Watson (Gonzaga) Total Points     Moneyline
821     Over  11½  Points     -115
822     Under  11½  Points     -115
Must Play
Rot     Anton Watson (Gonzaga) Total Assists     Moneyline
823     Over  2½  Assists     -160
824     Under  2½  Assists     +130
Must Play
Rot     Anton Watson (Gonzaga) Total Rebounds     Moneyline
825     Over  6½  Rebounds     -135
826     Under  6½  Rebounds     +105
Must Play
Rot     Anton Watson (Gonzaga) Total Made 3 Point Field Goals     Moneyline
827     Over  ½  3pt FGs     +120
828     Under  ½  3pt FGs     -150
- Don Shapiro, Gambling911.com