Floyd Mayweather Bets $200k Cowboys Second Half: Shoots Down Michigan Rumors
Published on:
Sep/06/2012
Floyd Mayweather has finally revealed that he never bet $3 million on the Michigan Wolverines to cover against Alabama this past weekend, but he did wager on the Dallas Cowboys to win the second half of the first NFL game of the 2012 regular season. 
"I bet the Cowboys second half $200,000. This is real. Not a rumor like Michigan," Mayweather confirmed, and posted a photograph of the bet ticket on his Facebook page as proof (photo appears below).
The Giants were embarrassed in their home game opener by the Cowboys Wednesday night, a game they ended up losing 24-17.  Dallas scored 7 more points than New York in the second half.
Gambling911.com's own Special Contributor Reno Gold warned not to follow Mayweather's College Football picks, especially the so-called "Michigan play" against Alabama that Gold advised G911 readers not to back (with good reason after the Wolverines got crushed by Alabama).  Gold has his doubts that Mayweather didn't actually place that bet somewhere, suggesting we probably would have seen that ticket on his Facebook page too this week had it been a winner. 
Of course, Gold is likely to get lambasted for doubting the fighter's abilities following Mayweather's big win Wednesday night.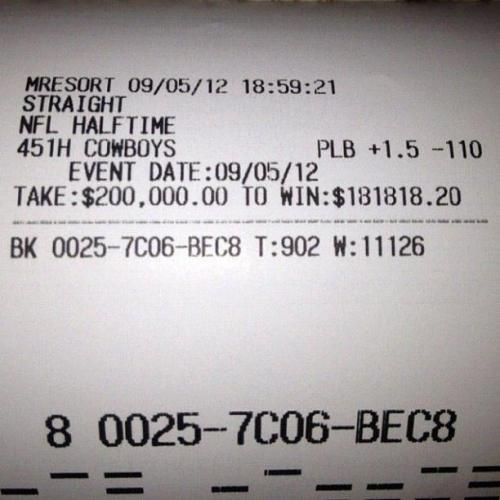 - Tyrone Black, Gambling911.com