Judge Sentences Las Vegas Casino Thief Who Conned Employees Into Giving Him Over $1M
Published on:
Nov/03/2023
Welcome to the Gambling911.com Crime Blog, all the latest news and social media stories about gambling-related crime as well as organized crime.  Our crime coverage is among the most popular features of the site.  We are thrilled to bring you all the latest news as it happens via this blog.

*4 weeks free trial
*Starting at $7 per head, 24/7 support
*Pay only for active players
*Live in-play betting on mobile or laptop
*No deposit required - Instant setup
*Live dealer casino or virtual casino
*18 plus years in business serving sports betting public
*70 plus horse tracks
Click here to visit RealBookiesT
Judge Sentences Las Vegas Casino Thief Who Conned Employees Into Giving Him Over $1M
(November 3, 2023) - Earlier this week, Clark County District Judge Jasmin Lilly-Spells sentenced Erik Gutierrez Martinez, 24, to one year at the Clark County Detention Center for his role in getting employees of at least two casinos to turn over large sums of cash to him.  Last month, he plead guilty to theft of more than $100,000.
In one such instance, Gutierrez Martinez was found to have contacted Circa's casino cage claiming to be the owner of the property and said he needed $320,000 for an emergency payment to the fire department in order to check fire extinguishers and other gear.
Ultimately, a cage supervisor ended up allegedly handing over $1.17 million during off-site exchanges believing they were giving it to Circa's owner.
"I went into this to get something for nothing, and I am paying the consequences," Gutierrez Martinez said during his sentencing, adding his actions were "very stupid."
Gutierrez Martinez was also handed down a 36-to-96-month suspended sentence, meaning if he violates his probation upon his jail release, he will go to prison.
Iowa Football Student Assistant Pleads Guilty to Underage Gambling
(October 27, 2023) - Iowa football graduate assistant Owen O'Brien has pled guilty to underage gambling and will have to pay a $645 fine.  He was originally charged with tampering with records, an aggravated misdemeanor that could have resulted in a two-year prison sentence.
O'Brien did not make any specific admissions to gambling on particular events or at a particular date and time in his guilty plea entered Tuesday in Johnson County District Court.  He is alleged to have used an account under his mother's name to place more than 350 wagers totaling at least $3,047.
O'Brien, who turned 21 in March, is not listed among the current Hawkeye football staff members.
A handful of players for the University of Iowa and Iowa State University football programs are alleged to have violated NCAA gambling policy.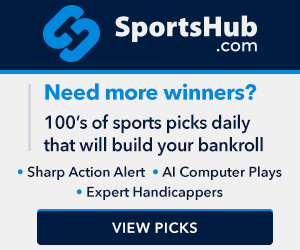 Get Free Consenus Plays and Leaderboard Picks Daily
Two Mobsters Seek Release From Prison Due to Coronavirus
(April 1, 2020) - Two Staten Islanders with mob ties are seeking release from federal prison due to the current coronavirus pandemic that is spreading through the US prison system.    
Eugene "Boobsie" Castelle, a Staten Island man and reputed soldier in the Lucchese organized crime family, and Daniel "Shrek" Capaldo, a Staten Islander and alleged Colombo crime family associate, were both arrested in 2018 and 2019, respectively.
Castelle, 60, is currently seeking appeal on his 2019 conviction for his connection with an illegal gambling operation.  He recently returned to prison after suffering pneumonia.  He is serving at the Danbury Federal Correctional Institution in Connecticut.
His attorney, Richard Levitt, wrote "at least one Danbury staff member has already tested positive for COVID-19 and inevitably others will," mentioning the spread of the virus in Rikers Island, where some prisoners have been released.
"Although he is recovering and is being monitored at Danbury, his previous medical history, combined with this most recent illness, strongly suggests he is an at-risk inmate, far more likely than others to succumb to COVID-19 should he become infected,"
Coronavirus Takes Toll on Italy's Organized Crime
(March 25, 2020) - Italy has been at the forefront of the fight, with nearly 7,000 deaths – higher than the count in China, where the virus began – as of Tuesday.  And now it appears the nation's organized crime syndicates may be impacted, primarily the Calabria-based 'Ndrangheta.
A national lockdown has made it nearly impossible to smuggle in drugs and other contraband on cargo vessels.
From Fox News:
Though shipments have carried on, these groups have reportedly found it difficult to distribute the drugs once they reach Italy.
"Certain types of drugs are still on the move," Anna Sergi, a criminologist at Britain's University of Essex, told the Organized Crime and Corruption Reporting Project (OCCRP). "The problem is who is going to pick them up?"
Other crime experts, like Oxford University Professor Federico Varese, have forecasted that organized crime will continue to suffer as Italy's economy contracts.
"I don't think they have all that much cash lying around. The longer it lasts, the harder it becomes for them to operate," he said.
It's possible though that criminal organizations can ultimately benefit by offering high interest loans to struggling small businesses.
Jorge Navarro Deletes Twitter Account in Wake of Doping Charges
(March 10, 2020) - Trainers Jason Servis and Jorge Navarro were among 27 individuals indicted Monday in U.S District Court on doping-related criminal charges. Servis trains the current top thoroughbred in North America, Maximum Security who crossed the wire first, but was disqualified by the stewards in last May's Kentucky Derby.
The two trainers were listed in a 44-page indictment resulting from "a widespread, corrupt scheme by racehorse trainers, veterinarians, PED  distributors, and others to manufacture, distribute, and receive adulterated and misbranded PEDs and to secretly administer those PEDs to racehorses under scheme participants' control," prosecutors said.
"would've caught our asses fucking pumping and pumping and fuming every fucking horse [that] runs today."- Jorge Navarro from indictment. https://t.co/sgUF28jLeI

— Michael Dempsey (@turfnsport) March 10, 2020
Brother of Bears' Hall of Famer Brian Urlacher Indicted for Role in Running Offshore Sportsbook
(February 26, 2020) - Casey Urlacher, the 40-year-old mayor of suburban Mettawa and brother of Chicago Bears' Hall of Famer Brian Urlacher, has resigned from his position on the Illinois Civil Service Commission following charges he and others helped run offshore sportsbooks.
The sites reportedly raked in millions of dollars from Illinois residents.
Urlacher has been charged with conspiracy and running an illegal gambling business. He is accused of acting as an agent for the gambling ring, recruiting bettors in exchange for a cut of their eventual losses.
The indictment claims Urlacher paid a Costa Rican-based Pay Per Head (referred to as "Company A") $10,000 per month.
Nicholas Stella, 42, a veteran Chicago police officer, was also charged.
Bulgaria Gambling Regulator Arrested
Bulgaria's fugitive gambling boss Vasil Bozhkov has been detained while the country's gambling regulatory body has undergone some significant turnover.
On Sunday, Bulgaria's Prosecutor-General Ivan Geshev announced that Bozkhov (pictured) had been detained in the United Arab Emirates after being indicted last week on charges of tax evasion, attempted bribery and extortion. Bulgarian officials are now preparing an extradition request to bring Bozhkov home to face the music.
Bozkhov, who has denied any wrongdoing, controls some of Bulgaria's largest gambling businesses, including the country's largest lottery.
Read More From CalvinAyre.com Here
Man Stabbed in Back With Scissors at Gambling House (Watch)
(January 21, 2020) - A man was stabbed in the back with a pair of scissors inside an illegal gambling venue in Brooklyn.  It happened around 1:40 a.m. last Thursday near 53rd Street and 8th Avenue in Sunset Park.  Police said they're now searching for a shirtless man seen on video holding the weapon.
Former Palermo Player Facing 3 Years Behind Bars for Mafia Connections
(January 9, 2020) - Former Palermo striker, Fabrizio Miccoli, is accused of having Mafia ties and is now facing up to three-and-a-half years behind bars for extortion aggravated by mafia methods.
The former top flight player "is accused of having asked Mauro Lauricella, son of Nino, a mobster from the Kalsa district, to ask the businessman Andrea Graffagnini for the return of twenty thousand euros on behalf of his friend Giorgio Gasparini. The money was the result of the sale of the Paparazzi discotheque in Isola delle Femmine ".
Man Sentenced to 13 Years in State Prison for Armed Robbery at Darren Elias' Home
(January 4, 2020) - An armed robber is facing a 13 year stretch in a state prison after breaking into the New Jersey home of poker player Darren Elias. The high stakes star was out at the time of the robbery but a 19-year-old babysitter was looking after his two-year-old child.
Shannon M. Soroka, 25, is accused of holding a gun to the babysitter's head and demanding to know where Elias kept his money.
Soroka was charged Friday with robbery, aggravated assault, making terroristic threats, unlawful possession of a weapon, criminal mischief and related offenses.
It was revealed during the trial that Soroko, also a poke player, had amassed serious debts totalling tens of thousands of dollars through gambling and drug use.
13 years. It ain't worth it guys. https://t.co/BznovSdINV

— PokerTube (@pokertube) January 4, 2020
11 Indicted Tied to Ohio Bookie Biz, Pay Per Head
(December 20, 2019) - 11 individuals tied to a Cleveland-area bookmaking business were indicted by a grand jury on Thursday.
The indictment handed up Wednesday said bookies worked with clients to take bets. The indictment does not specify the size of the operation, though there are references to multiple instances where thousands of dollars changed hands. The U.S. Attorney's Office previously said one of the defendants handled at least $500,000.
The defendants in Ohio include Clinton Reider, Thomas Reed, James Ovens, Michael Tutolo, Maurey Presser, Alan Bambic and Ralph Robertson. Also indicted were Amir Hugh Robinson of Florida and Anthony Pinialis of Nevada.
The site primarily utilized by the defendants was 1redzonebet.com (now offline). 
Federal prosecutors made the investigation public in August, when they sought the forfeiture of Reider's house in Mentor-on-the-Lake. They said at the time that Reider, 41, worked as a bookie, used offshore websites to take bids from clients and ran poker games at several locations. Among the people he worked with was an unnamed former professional baseball player, the complaint said.
Penn State Casino Director Stole $75K In Gift Cards
(December 16, 2019) - A Collegeville woman and benefits director at Penn National Gaming stole hundreds of $25 and $50 gift cards intended as employee prizes: DA.
Denise M. Bitler, 56, faces numerous charges for the crimes, committed while employed with the casino operator from Oct. 2014 to June 2019.
Penn National Gaming, headquartered in Wyomissing in Berks County, runs 43 gaming and racing facilities across 19 states.
Bitler was in charge of running a "wellness" program at the company.
The DA said that Bitler kept the pre-paid gift cards inside her office and, throughout 2018 and 2019, used hundreds of them for her own personal use, including on vacations, medical bills, and retail purchases.
Source: Patch
Notorious Cleveland Gangster Shondor Birn's Wild Life, Explosive Death
(December 15, 2019) -
Notorious Cleveland gangster Shondor Birns' wild life and explosive death detailed in book (vintage photos) https://t.co/AXQfikfKN8

— Umar Lee (@UmarLeeIII) December 15, 2019
Poker Player Charged With Child Sex Abuse Asks for New Judge
(December 14, 2019) - Real Grinders founder Raymond Davis has requested a new judge in his case involving child abuse.  Davis denies the allegations.  He was arrested earlier this year.  The warrant was issued three years prior.
Davis is due to stand trial on nine charges of sex crimes against children, allegedly paying underage females for oral sex and to watch them shower while he masturbated.
Davis made his request without his lawyer being present.
Judge Linda Bell stated:
"Sir, I really don't think that's a good idea without your lawyer being here", but Davis insisted "… I know what I'm doing", according to press reports of the exchange.
Davis had previously accused prosecutors and another judge of bias.
PokerHost reports that earlier court outbursts saw his bail raised from $25,000 to $500,000 – with 'house arrest' and 'high-level monitoring' included in the conditions.
Peter Jepsen Sentenced to Four Years in Prison
(December 10, 2019) - Peter Jepsen was accused of a six year long cheating spree that involved installing trojan horse viruses onto other player's computers. It was thought that he recruited partners who would install the malware onto laptops in hotel rooms while playing at high-profile events such as the EPT.  More From PokerTube.com
Damn another one! https://t.co/51YFFlNnoD

— PokerTube (@pokertube) December 10, 2019
Poker Player Pleads Guilty in Scam
(December 3, 2019) - Michael Borovetz has plead guilty to a single charge of theft.
Borovetz is said to have scammed people for years.
The 43-year-old from Pittsburgh is accused of taking advantage of unsuspecting travelers at Newark Airport.   He did the same at Charlotte Douglas Airport.  He would lie to passengers, telling them he was stranded and needed money for a hotel room.
Ex-pro poker player scams travelers at Newark Airport, police say https://t.co/vyDcXrcSdD

— NBC New York (@NBCNewYork) April 6, 2018
Maltese PM to Step Down After Arrest of Man Tied to Journalist Murder
(December 3, 2019) - Maltese Prime Minister Joseph Muscat has bowed to mounting popular pressure and announced his plans to resign in the new year. The embattled premier, beset with questions about the unsolved murder of an investigative journalist, answered by voicing his "deep regret" over the incident in a televised address Sunday evening.
The announcement caps weeks of escalating criticism of Muscat and his government over their response to the 2017 car bomb killing of reporter Daphne Caruana Galizia. The investigative journalist had been known widely in Malta for her dogged pursuit of government corruption — quite a bit of which she unearthed by carefully perusing the massive Panama Papers leak, which has revealed a slew of inappropriate financial moves by politicians around the world.  An explosive device blew up her car while she was in it killing Galizia instantly.
Police recently arrested Yorgen Fenech in connection to the case.  The 38-year-old gambling and real estate magnate whose business activities have been linked to members of Muscat's inner circle.
Police recently arrested Yorgen Fenech in connection to the case.  The 38-year-old gambling and real estate magnate whose business activities have been linked to members of Muscat's inner circle.
Fenech is a director and co-owner of a business group that won a large energy concession from the Maltese state.
RealGrinders Founder Raymond Davis Claims Innocence In Child Sex Case
(December 2, 2019) - RealGrinders poker site founder Raymond Davis says he is innocent of any wrongdoing as he faces up to 35 years in prison on sexual abuse charges of a minor.
The 52-year-old from California is accused of paying an underage child to give him oral sex in 2014.  He was arrested this year and remains behind bars.
"I have never, never in my life, paid a girl, underage woman, girl for sex," he insisted.
Police first filed a warrant against Davis two-and-a-half-years ago.
Davis questioned law enforcement moving so slowly.  He was only arrested after an unrelated traffic stop.
"They never made an effort to come to my house. They never came to my store. I'm very high profile; anybody, a 10-year-old Boy Scout can find me.

"I got a big following. I'm on social media. My whereabouts is there. I got a custom red Camaro, my name on it, my business RG on it."
Betway Reportedly Allowed Customer to Bet £370,000 of stolen cash
(November 25, 2019) - Betway is reportedly under investigation for allowing a customer to gamble with £370,000 of stolen cash.
The UK Gambling Commission is investigating whether Betway was lax in allowing Ben Jones, 30, to afford the sums he was gambling with.  The money was stolen from the Cake Decorating Co, where he worked as a manager.
A court has already decided that Ben suffered from a "psychiatric disorder" brought on from his gambling addiction.
It is alleged that Ben had been draining his employer for over three and a half years out of £30,000 a month, most of which he gambled away.
In addition to the Commission probe, Ben's former employer also plans to sue Betway.
Former Boss of Illegal Ottawa Gambling Ring Target of Shooting
Ottawa police say there's "no danger to the public" after a man was taken to hospital in critical condition after suffering gunshot wounds in an incident near the intersection of Meadowlands Drive and Merivale Road.
Benedetto "Benny" Manasseri had just finished an early morning workout when he was shot at close range as he got into his white Chevy pick-up in the parking lot of a high-end Meadowlands gym.
An assailant, who knew Manasseri would be there, approached and fired bullets through the driver's side window. Manasseri, an Ottawa business man with long-standing ties to organized crime, was shot in the chest. He was rushed to hospital and into surgery. He remains in critical condition while police investigate the targeted attempted hit on his life.
More From The Ottawa Citizen and watch below
Two Arrested Following Casino Embezzlement Probe
(November 19, 2019) - California Attorney General Xavier Becerra announced Monday the arrest of two individuals in an alleged embezzlement scheme at Red Hawk Tribal Casino in Placerville, California involving more than $200,000.

Luc Mooc and Prak Pich were arrested last Thursday following a probe by the state's Bureau of Gambling Control and casino surveillance staff.

"Pich, a floor manager at the casino, would allegedly extend credit lines to Mooc, a casino patron, and then falsify documents to make it appear as if the credit line had been paid back," Becerra's office said. "These short term, no-interest credit lines are commonly extended by casinos to allow approved patrons easy access to gambling funds with the understanding that the temporary loan would be repaid within a short period of time.

"However, instead of paying back the loans, Mooc and Pich allegedly conspired to steal the funds that would range anywhere from $12,000 to $14,000 at a time."
Casino Director Arrested for Destroying Casino Property
November 18, 2019 - (AP) - Springfield's Communication Director, Marian Sullivan, has been suspended after she was arrested for damaging property at the MGM Springfield Casino in Massachusetts. Sullivan has been charged with destruction of property.
According to a report from the Republican newspaper, Marian Sullivan was arrested at the downtown casino around 3 a.m. Sunday.
The police have said that she damaged property at the gambling facility and restaurant and also vandalized cars in a parking garage. A police spokesman has also said that she appeared to be intoxicated.
The associated press reports that Mayor Domenic J. Sarno was "shocked and very disturbed" by the arrest. He said he's hopeful Sullivan "will seek the help that she seems to need."
Mayor Domenic J. Sarno also confirmed that Sullivan will remain suspended until the case makes its way through the court proceedings. He did decline to answer further questions of the reporters.
MGM which is planning to tap into new markets is on an asset off-loading spree and according to the reports, the casino and hospitality giant is planning to sell its Springfield casino property.
MGM has already announced the sale of its Bellagio Hotel & Casino on the Las Vegas strip, for $4.25 billion.
MGM incurred a net loss of $37m during the third quarter2019. For the same period the previous year, MGM had reported a profit of $143m.
Lucchese Mobster Didn't Plot Prison Break — Just Had Lots of Sheets
"People have sheets," attorney John Meringolo said of the 17 bed sheets found wadded under Christopher Londonio's bunk in his eighth-floor cell of the Metropolitan Detention Center in 2017. "I submit to you, bed sheets in his room, that's not gonna cut it."
A jailhouse snitch testified that Londonio's elaborate plan involved cutting through the window with braided dental floss, severing bars with a hacksaw smuggled in by a priest, and a crash diet in which he binged on bran.
Once the 350 pound wiseguy could fit out the window, he allegedly intended to climb down the knotted sheets to the parking lot below.
"Where's the hacksaw, where's the dental floss, where's the priest?" Meringolo asked Tuesday, before decrying the idea that his client dropped pounds to fit out a window.
CS:GO Money Laundering Shut Down by Game Publisher Valve Corp
(November 6, 2019) - Counter Strike: Global Offensive publisher Valve Corporation said this week it pulled the plug on money-laundering activity taking place via its microtransaction system.
The company admitted through a statement that criminals were "liquidating gains" through the trading of digital keys that are used in CS:GO to open loot-boxes.
The amount laundered was not immediately known, however, some hundreds of thousands of boxes and keys were sold through the Steam store.  Most keys and boxes sell for a few dollars.
From eSportsJunkie:
Many fraudsters have previously match-fixed their CSGO betting games in order to make large amounts of fraudulent profit.
The thieves used the loot collecting mechanisms of the game, which allows players to exchange their keys and receive real cash prizes.
Valve said that the game has been patched to stop keys being exchanged online.
Until recently, Valve said that keys were usually traded among real players. But it changed now as a game was targeted by fraudsters.
"At this point, nearly all key purchases that end up being traded or sold on the marketplace are believed to be fraud-sourced," a company spokesperson confirmed.
Keys are now attached to a player's account so that they can not be transferred.
Woman Who Rammed RV Into Vegas Casino Was Trespassed
(October 29, 2019) - A woman accused of driving a motor home into the Cannery Casino in North Las Vegas, critically injuring an employee, said she did it because she was owed money and had been trespassed from the property.
Jennifer Stitt, 50, remained jailed today on a count of attempted murder at the Las Vegas city jail, records show. Bail was set at $100,000.
Stitt was captured on video driving through the valet area about 5:15 a.m. Friday and abruptly turning into the breezeway entrance, North Las Vegas Police said.
Time's Up for Duo Accused of Drugging Man in Casino?
(October 25, 2019) - Two women accused of slipping a mickey into a man's drink while he played at the slot machines and steeling his multi-thousand dollar Rolex may finally be captured after the two were profiled on Friday night's episode of Live PD.
Both women had their faces clearly shown during the segment and LivePD Nation is now spreadking the word.
The incident occurred at the Seminole Hard Rock Casino in Hollywood, Florida.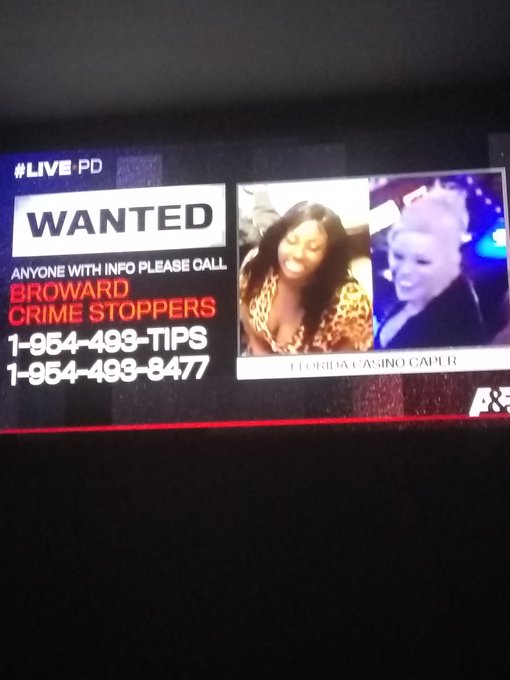 This is so crazy! She drugged this guy in the middle of a casino! Guys take advice from a woman! Never accept a drink you didn't watch be made or ordered on your own! #LivePd @LivePdFans https://t.co/10oHY8MZtj

— Jessica  (@Rambo_Jessica_) October 26, 2019
Tallahassee Police Arrest 10 People in Ongoing Gambling Raids
(October 24, 2019) - The Tallahassee Police Department arrested 10 people over the past few weeks on charges they were involved in illegal gambling houses.
The arrests come as part of an ongoing crackdown by TPD and the Leon County Sheriff's Office on alleged gambling operations and so-called internet cafes following armed robberies in two establishments.
During one of the robberies, on April 26, a man opened fire inside the Arcade Center, 1889 N. Martin Luther King Jr. Blvd. No one was injured in the shooting and a suspect was later arrested. Six search warrants were served after the shooting and the establishments closed.  Read More Here
- Jagajeet Chiba, Gambling911.com