Hustler Casino Concludes 'Vibratorgate' Live Streaming Tournament Probe
Published on:
Dec/15/2022
What does one get when they insert a vibrating device during a live streaming poker event at none other than the Hustler Casino?  Throw in allegations of threatening behaviour and a win that has odds right up there with getting struck by lightning twice.  Well, you get an investigation for one.  And the day has finally come for a verdict.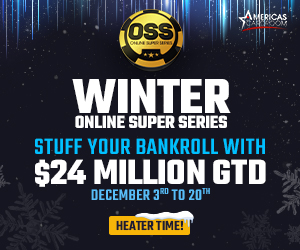 Let's dig deep and review what took place that infamous day in early October.
It was then that novice female poker player Robbi Jade Lew won the all-in hand for a pot of $269,000 at what experts claim were "so phenomenally small".
Garrett Adelstein, who lost the hand, believed Lew had cheated during the game.
What happened next is partially not in dispute.  Lew did indeed hand over the winnings to Adelstein, a one-time Survivor contestant, later on. 
But Lew, a former biopharmaceuticals rep from Pacific Palisades, went onto tweet what allegedly transpired in that "dark hallway", something Adelstein denies:
"Garrett blocked me. Guilty as charged. What an honest man. He cornered me & threatened me. If he has the audacity to give me the death stare ON camera, picture what it's like OFF camera. I was pulled out of the game & forced to speak to him in a dark hallway. Full details to come."
Those claims only helped to take this already bizarre story to a whole other level.  This one stretched beyond just the poker media space, making it to the pages of Inside Edition, Daily Mail and even the LA Times.
Zach Elwood, Author of "Reading Poker Tells", said that, while the odds of Lew being right "were so phenomenally small", there remained a slim possibility she did win fairly.
"It is just such a weird, objectively horrible play," Elwood said at the time.  "Poker is a game of thinking about all the range of hands an opponent could have.  There's a reason you won't see a player make the play that she made."
But he emphasizes a notable exception.
"Unless they are very beginner level and very nervous, you know, which gets into the realm of, like it's one thing to suspect that or find the hand suspicious, which is understandable because it is a strange hand, especially considering the stakes, but then it is another thing to be certain that she cheated when you saw this kinda like polarized responses right now."
In the end, Hustler Casino found no wrong-doing against Lew while not completely exonerating her.
"That does not mean that no wrongdoing occurred," said the report, released Wednesday by High Stakes Poker Productions. "It means that the investigation failed to find credible evidence."
Lew quickly welcomed the news.
"I am obviously now entering another stage of this journey, as there are still loose ends that need to be resolved," she said. "There will be subsequent commentary and statements issued by my legal team shortly."
For his part, Adelstein expressed some relief that the saga appears now to be over.   He also praised the Hustler Casino in a tweet late Wednesday.
"I was heartened reading the details regarding several security measures HCL has implemented. Security vulnerabilities are THE existential threat facing the poker livestreams we all love, and thus these updates are a win for everyone in our industry.
"I've surprised myself with the peace I've felt being away from all things poker in recent months. But if/when I do decide to play again, I'm open to playing on HCL."
- Ace King, Gambling911.com