Lebron to the Mavericks? You Can Bet on it
Published on:
Jun/05/2023
Kyrie Irving wants the Dallas Mavericks to trade for LeBron James.  Whether they do so or not remains to be seen.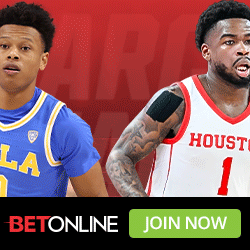 LeBron James said he has "a lot to think about" in regards to "moving forward with the game of basketball" after his team was beaten in the NBA Playoffs by the Denver Nuggets.
The Mavericks make the list with a payout potential of $1000 on every $100 bet.
The Mavs making a move for LeBron shouldn't be much of a shock.  They reportedly were prepared to make an offer last season when the Lakers were spiraling out of contention.
Irving is the Mavericks' No. 1 offseason priority and LeBron is said to have a great relationship with the Mavs head coach Jason Kidd.
Speaking on the I Am Athlete podcast last year, Irving said he has some regrets about how he abruptly left James and the Cavaliers in 2017.
"If I was in the same maturity line and understanding of who I am, and I look back, we definitely, definitely would've won more championships, because there would've been a better man-to-man understanding about what I'm going through," he said.
"I didn't know how to share my emotions. I didn't know how to do that. So instead of sharing, I isolated myself."
As for the odds, the Knicks sit on top of the list.
"We made the Knicks and 76ers co-favorites for the King's next club. Staying in L.A. with the Clippers is the third option, while a return to Cleveland and a quick trip to Phoenix round out the Top 5," BetOnline said in a statement.
The one thing that is almost certain, according to the oddsmakers, LeBron is NOT retiring.
LeBron James Team - 2023-24 Regular Season                                      
New York Knicks                        3-1                  
Philadelphia 76ers                     3-1                  
Los Angeles Clippers                  5-1                  
Cleveland Cavaliers                   7-1                  
Phoenix Suns                            8-1                  
Golden State Warriors               9-1                  
Dallas Mavericks                       10-1                
Miami Heat                               10-1                
Sacramento Kings                     12-1                
Milwaukee Bucks                      18-1                
Chicago Bulls                            20-1                
Boston Celtics                           25-1                
Will LeBron James retire?                                            
No                    1-10                 (-1000)
Yes                   11-2                 (+550)
- Tyrone Black, Gambling911.com