Mind-Blowing Sports Betting Facts: More Than Half Do It
Published on:
Aug/23/2022
Our friends at PricePerPlayer on Tuesday released some fascinating facts and figures related to the sports betting sector.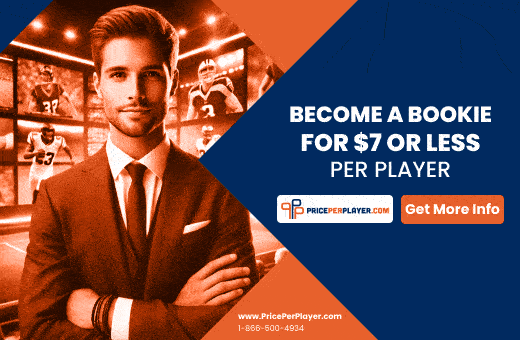 What Percentage of the North American Population has Placed a Sports Bet in Their Lifetime?
a) 10%
b) 25%
c) 50%
d) 75%
The correct answer would be c) 50%.
Recent CivicScience survey results show that half of young adults (ages 21-29) bet on sports online. 
More specifically, of the 1,126 Americans ages 21 to 29 surveyed by CivicScience in December, more than half (53%) said they bet on sports online.
When it comes to online or mobile sports bets, that number increased from 14% to 18% among all adults aged 21 and up between the period August 2021 to December 2021, according to the CivicScience survey. The increase seemed to have correlated with the number of U.S. states joining the regulated sports betting market.  Half the states now do.
The Percentage of Those Adults Who Bet $50 or More Online is?
a) 10%
b) 20%
c) 25%
d) 30%
Among those who bet online, the most common wager sizes are "$10 to $25" and "less than $10." However, nearly 30% of online bettors are regularly placing wagers of $50 or more.
The survey found that 1 in 10 U.S. sports bettors are wagering more than $250 on average online.
This Continent Represents 33% of All the World's Sports Bettors
a) North America
b) Europe
c) Asia
d) The United States
Okay, the U.S. is not a continent, and North America is not the correct answer.
Asia makes up 33% of the world's sports betting market even though it tends to be highly restrictive in some parts (i.e. China).
China's recent crackdown on Macau, long considered the world's top gambling destination, could soon reduce this number.
From GGRAsia:
The Chinese authorities have also continuously emphasised in the past few years a crackdown either on citizens travelling overseas for casino play, or being involved in online betting: referred to collectively as "cross-border gambling". The country has amended its criminal code to outlaw anyone assisting others in such activity. It came into effect from March 1, 2021.
53% of eSports Bets are Placed on This Game
a) League of Legends
b) DOTA
c) Counter-Strike
d) Overwatch
53% of all eSports bet were made on the outcome of a Counter-Strike game. Afterwards, Dota accounts for 35% of all eSports Bet and league of Legend Accounts for 7% of all eSports wagers.
The Most Challenging Sport to Bet on Is?
a) Hockey
b) NBA
c) Baseball
d) Soccer
Baseball is unpredictable by nature and, as such, is considered the most difficult to bet on.  This might explain why the MLB season is widely viewed by sportsbooks as "slow season".  It's not as if Baseball is unpopular. Betting is difficult in that there is a 162-game season that features difficult-to-forecast player streaks and "off" pitching days for starters, even the aces.
The Highest Long Term Win Rate for a Sports Bettor is?
a) 86%
b) 78%
c) 65%
d) 55%
It's 55%.  And we are not talking just casual sports bettors here.  For professional sports bettors, their win rate is typically between 53% and 54% in any given year. While it may seem that those numbers would get up to 60%, that does not happen over the long term. 
The Percentage of Hockey Fans That Bet Sports is?
a) 7%
b) 23%
c) 45%
d) 62%
Way better than half of those who consider themselves Hockey fans love to bet the sports: 62% is the correct answer.
The Percentage of NFL Fans That Bet Sports is?
a) 20%
b) 48%
c) 57%
d) 71%
The correct answer is b) 48%, a little less than half.
59% of those who consider themselves Basketball fans (not just the NBA) bet the games.
- B.E. Delmer, Gambling911.com