Mystery Bounty Tournaments a Massive Hit at Americas Cardroom
Published on:
Oct/11/2023
ACR Poker started running Mystery Bounty tournaments earlier this year and they've proven to be a huge hit with players. Now, due to popular demand, the worldwide poker site has added two to its permanent monthly schedule.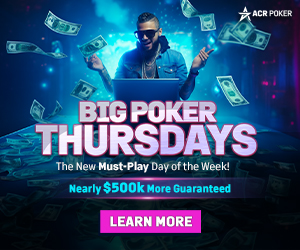 Some of what makes these bounties special include:
You can win randomly assigned bounties worth tens of thousands of dollars
Multiple Phase 1 flights to help you accumulate your chip stack.
2 ways to win: run deep or collect a big bounty
"We figured that Mystery Bounty tourneys would be popular with players, but even we underestimated the response," said ACR Pro Chris Moneymaker. "Now, our players can play in two every month, totaling a big $325,000 in guarantees."
Mystery Bounty Tournaments involve two phases.
Phase 1
In this initial phase, the prize pool is distributed as follows:
    50% of the Phase 1 Buy-ins go towards bounties.
    The remaining 50% goes into the tournament prize pool.
During Phase 1, your main goal is to survive and grow your chip stack throughout the first day of play. Keep in mind, the mystery bounties are only awarded during Day 2, so it's all about positioning yourself for the big rewards. You can participate in as many Phase 1 flights as you like, and the chips you accumulate at the end of each flight will be added to your Phase 2 starting stack.
Phase 2
This is the final phase, where the prizes are set, and the excitement is at its peak. For each player you eliminate, you'll earn a random bounty. Since the bounties are assigned randomly, you could even win the tournament's top bounty prize with your very first knockout in Phase 2. That's why building a solid Phase 2 starting stack by playing multiple Phase 1 flights is essential – it ensures you're in a strong position right from the start, ready to take on your opponents.
And there's more! In Phase 2, the bounty prizes are unveiled. Eliminating opponents means stacking up those bounties and increasing your potential winnings. The more players you eliminate, the more bounties you'll collect!
When Are These Bounty Tournaments?
Daily Day 1 flights are every two hours and Day 2 is on the last Sunday of the month.
The Sunday Squeeze has a $250,000 guaranteed prize pool with a top bounty of $25,000. The buy-in is $16.50. The Dime has a $75,000 guaranteed prize pool with a top bounty of $7,500. The buy-in for that tournament is just $2.50.
In Mystery Bounty tourneys, players use their Day 1 flights to accumulate their chip stack. Then on Day 2, they can win big either by running deep or by collecting a huge surprise bounty every time they knock out a player.
- Ace King, Gambling911.com