Mayweather vs. Mosley Fight Predictions
Published on:
May/01/2010
For those of you betting on Saturday night's fight Gambling911.com brings you some Mayweather vs. Mosley fight predictions.  Odds on the Mayweather vs. Mosley fight could be found at SBG Global.com including props for this fight. Mayweather was a -450 favorite while Sugar Shane Mosley would pay out $325 on every $100 bet or $32.50 on every $10 bet with the upset.
Mayweather vs. Mosley fight props found at SBG Global.com included:
Mayweather by Dec            -200           
Mayweather by KO            +400           
Mosley by Dec +550           
Mosley by KO +550           
Draw +2250           
No Draw -6000      
CNNSI.com experts are all going with Floyd Mayweather, Jr. here.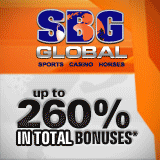 CHRIS MANNIX: This fight comes down to whether Mosley can throw his jab for 12 rounds. Few fighters in history capitalize against free swingers as well as Mayweather, whose counterpunching is close to flawless. But Oscar de la Hoya led the first half of his 2007 fight with Mayweather thanks to a heavy dose of jabs; it was when he abandoned it that he got into trouble. Mosley acknowledges the importance of it and says he will throw it consistently all fight. Mayweather claims Mosley's jab is weak and that he will tire quickly and look for the big shot. I'm siding with Floyd on this one
Mayweather vs. Mosley fight prediction: Mayweather, by unanimous decision.
RICHARD O'BRIEN: At 4-1, Mosley strikes me as a very live dog. Gifted with a rare blend of speed and power, tremendously well-schooled, and as experienced and savvy by now as anyone in the sport, he's the most dangerous opponent Mayweather has ever faced (not counting Floyd Sr.). Shane is also hungrier and more focused than ever. All that may still not be enough. Mayweather?s skill set, preparation and fighting discipline are so great that he almost literally never makes a wrong move in the ring. To beat him, Mosley will have to find a way to take Floyd out of his game. The jab -- as Oscar De La Hoya showed -- can be effective. And, unlike Oscar, Mosley will bring some aggression behind the jab. Of course, that's when Floyd will be able to pot-shot him. Mosley would love to brawl in this bout, but I don't see Floyd letting that happen. As strong and capable as Mosley is, I think Floyd makes him pay for everything he gets in -- and Money's exchange rate is exorbitant.
PREDICTION: Mayweather, by unanimous decision
BRYAN ARMEN GRAHAM: I'm not picking against Floyd in any fight that can be made today. That includes Manny Pacquiao and Saturday's tangle with Mosley. That said, I'm a little shocked how perfunctorily most folks are writing off Shane's chances. Mosley is a first-ballot Hall of Famer and a legend awfully close to his prime, so you'd be mad to say he's got no shot. It's been a long time since Mayweather defeated a full-bodied welterweight, save for a semi-faded Oscar De La Hoya at 154, and he's never faced an opponent with Mosley's potent cocktail of speed and power. A few years ago, I'd call it a toss-up. Here in 2010, Floyd's just a little too difficult and a little too quick for Mosley, who hasn't been in the square circle since Obama's inauguration week.
PREDICTION: Mayweather, by unanimous decision
Elsewhere we had Sean Pollock of BoxingNews24.com picking Mayweather Jr. as well.
"I think Mayweather may just be too quick, intelligent and simply too good for the elder Mosley. I don't think Mosley can beat Mayweather on points, he will have to knock him out- easier said than done. Although I think 'Pretty Boy' will win... if anyone is to ever land a big right hand and knock out Floyd and his '0', I hope it's Shane."
Brandon Estrict, Doghouse Boxing
I'm going Floyd by decision. That's your best bet. All the reports out of Big Bear are Shane isn't looking so good in sparring, while the news in Nevada is Floyd's been razor-sharp. I also believe this fight has heat to it, a personal rivalry that spans a decade and neither guy will give the other anything. At the end of the day, I see Floyd being a little too elusive and smart for Shane, are really pulling away after the first three or four rounds.
Colin Linneweber, Boston Boxing Examiner
Mayweather by a unanimous decision victory is my prediction. So, bettors, take Mosley by first-round KO.