Shane Mosley vs. Manny Pacquiao Fight Odds
Published on:
May/06/2011
Note that while the Shane Mosley vs. Manny Pacquiao fight odds had Pacquiao at -800 overnight on Friday, Gambling911.com was forecasting this number to go down somewhat heading towards the fight time.  This is a very steep price.  Mosley would pay $500 on a $100 bet at Sportsbook.com with an upset.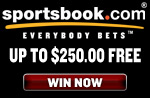 For those of you looking to bet the total number of rounds:, that number is11.5 rounds under -185/over +145.  When it comes to Shane Mosley vs. Manny Pacquiao fight odds, betting the OVER/UNDER number of rounds probably entails the best value.
Who says don't believe the hype?
When 32-year-old Manny Pacquiao, a.k.a. the champ, steps into the ring against 39-year-old challenger Shane Mosley on Saturday night, there is little doubt that the fans in attendance at the MGM Grand in Las Vegas, Nevada will get their money's worth. When the opening bell sounds, they will be less preoccupied with the fact that Pacquiao has not lost a fight in six years (a March 2005 decision to Erik Morales) while Mosley has not won a fight since January 2009 (a ninth-round TKO over Antonio Margarito) and is a less -than-imposing 2-2-1 in his past five bouts. The people who will fill the MGM Grand Garden Arena will be there to see two warriors battle in the here and now. Fighting for what could be a prelude to even more greatness for Pacquiao, or a final exclamation point in a career that has had many of them already for Shane Mosley. Between these two men they have won a total of 11 titles in a wide variance of classes and divisions. Presently it is only Pacquiao who owns a championship belt, two actually. He is the reigning WBC Super Welterweight World Champion and WBO Welterweight World Champion (Super Champion).
(Sportsbook.com welcomes players from all over the world.  Use your Visa Card, cash transfer, Neteller, Moneybookers, and eWallet Go Here Now)
Pacquiao enters the bout with a career record of 52-3-2, including 38 knockouts. The 5-foot-6 Pacquiao is three inches shorter than the 5-foot-9 Mosley, and at 74 inches, Mosley also has a seven-inch reach advantage. Mosley is 46-6-1 with 39 knockouts. A casual observer may think that the seven-year age difference could make it more difficult for Mosley to chase down Pac-Man inside the ring, but that will not be a concern for Mosley. Pacquiao will bring the fight to Mosley, and the challenger will be ready to bring it right back at him. Both fighters are offensive-minded first, with Pacquiao possessing the full arsenal of weapons that should allow him to hold his own and then some against the superb combination of power and quickness in Mosley's punches. Mosley will tend to take a bit more punishment at this stage of his career, as his defensive instincts diminish with the passage of time, but his fists are still alive and well. If Pacquiao is to beat Mosley, he will have to get toe-to-toe sooner or later, and when he does, Mosley will have to use his speed and power when he gets the chance to score points on the champion.
Recent common opponents of the two men reveals little in the way of similarity beyond the final result. Pacquiao defeated Margarito by unanimous decision last November, while Mosley defeated him by TKO in the aforementioned January '09 battle. Pacquiao defeated Miguel Cotto by TKO in November 2009. Mosley lost to Cotto via unanimous decision, though it came back in 2007. Both men have defeated Oscar De La Hoya in their careers, although the wins came five years apart (Mosley in 2003, Pacquiao in 2008). One name that is not common to the resume's of each fighter is a profound one, Floyd Mayweather Jr., who defeated Mosley in May of 2010 in a unanimous decision. A Pacquiao victory will only raise the volume in that boxing echo chamber that has been pleading for a bout between Pacquiao and Mayweather Jr. for several years. Controversy and maneuvering has stood in the way of that matchup. Saturday night, fists and fate could, (emphasis on the word could) finally make it happen.
As stated, both men are supreme warriors, but Pacquiao always brings a pronounced swagger, attention to preparation and detail, and ability to execute a game plan to every fight. That game plan, provided to him by his trainer Freddie Roach, will be a good one. While track record can mean many things to many fighters, the fact is that Pacquiao is hot, undefeated since 2005, he is riding a 13-bout win streak. Most monikers attached to athletes today are nothing more than words, but no one doubts that Manny Pacquiao is pound-for-pound the best fighter in the world. This is not to say that Mosley is a slouch, but his last win was 2009, his last fight against Sergio Mora last September was a draw, and if this was any other sport, you'd have to believe a little more in the team/individual who's won 13 straight than the opponent who's only won twice in past five bouts. Pacquiao is the boxer on a roll, but more than that, he is clutch. A champion made for these types of moments.
Follow breaking headlines around the clock at Gambling911.com Twitter Here