Venom Fever Kicks Off With $5 Million Guaranteed
Published on:
Oct/04/2023
Big news from ACR Poker.
"We're giving away 633 guaranteed seats worth $2,650 each. Join Venom Fever with buy-ins as low as $33 and start your journey to the world's biggest progressive knockout tourney."
The guarantee is a cool $5 million.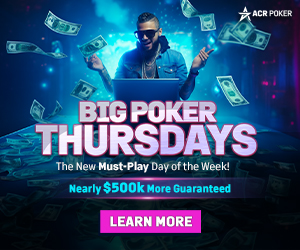 Venom Fever satellites are the hottest (and easiest) way to earn your seat to the $5 Million Venom PKO.  The tourney starts with Day 1A on Thursday, October 19th.
There are 633 guaranteed seats ($2,650 value each) up for grabs. And with direct satellites starting at $33 and paths to Mega Satellites beginning at $0, we're making it super easy to qualify for the world's biggest progressive knockout tourney.
    Daily direct satellites with 358 total seats GTD. Buy-ins start at $33.
    MEGA satellites (7 total) with 235 total seats GTD.
    Win your MEGA satellite seat for free by following the daily path.
    Beast satellite (October 15th and 22nd) with 40 total seats GTD.
WEEK  1 – MEGA SATELLITES
$290 Buy-in | Sunday Oct. 15th | 1:15pm ET | 25 Seats GTD
Daily path to $290 Mega Satellites: Freeroll > $2.50 > $33 > $290
WEEK  2 – MEGA SATELLITES
$290 Buy-in | Sunday, Oct. 22nd | 10:45am ET | 30 Seats GTD
$630 Buy-in | Sunday, Oct. 22nd | 10:45am ET | 50 Seats GTD
Daily path to $290 Mega Satellites: Freeroll > $2.50 > $33 > $290
Daily path to $630 Mega Satellites: Freeroll > $6.60 > $66 > $630
WEEK 3 – MEGA SATELLITES  
$55 Buy-in | Saturday, Oct. 28th | 1:30pm ET | 10 Seats GTD
$109 Buy-in | Saturday, Oct. 28th | 1:30pm ET | 20 Seats GTD
$290 Buy-in | Sunday, Oct. 29th | 10:45am ET | 40 Seats GTD
$630 Buy-in | Sunday, Oct. 29th | 10:45am ET | 60 Seats GTD
Daily path to $55 Mega Satellites: Freeroll > $0.55 > $5.50 > $55
Daily path to $109 Mega Satellites: Freeroll > $1.10 > $11 > $109
Daily path to $290 Mega Satellites: Freeroll > $2.50 > $33 > $290
Daily path to $630 Mega Satellites: Freeroll > $6.60 > $66 > $630
- Ace King, Gambling911.com