If you are looking for a place to bet USA vs. Canada Ice Hockey for Friday morning's Winter Olympics semi-finals, look no further than BetDSI.com, where you can also enjoy betting this matchup on your mobile device.
Submitted by Ean Lamb on, Feb/20/2014
With the Winter Olympics about to kick off in Sochi, Russia in just a matter of days, a dark shadow continues to hover over that nation, and we're not referring to any terrorist threats or fear of reprisal against the LGBT community.
Submitted by Gilbert Horowitz on, Jan/30/2014
Breaking News
A second suspect wore a cat mask and third one wore a panda mask.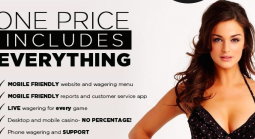 More and more independent bookmakers are realizing that online casino brings in a lot of revenue
Lawyer claims leaks could have contributed to the decline of Platinum's value, which is a key part of the prosecutors' case.