Boston Celtics Betting Tips and Trends
Published on:
Nov/17/2023
We are now a few weeks into the 2023-24 NBA season and Sagarin ranks the Boston Celtics at the top of the league and this they should remain among the top 10 moving forward barring any major injuries.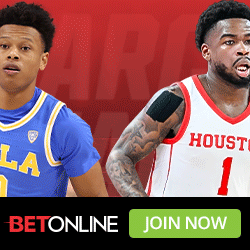 November 20
97.63 is your updated Sagarin number, slightly down from last week but still holding pat at No. 1.
They will take on the lowly Charlotte Hornets on the road as a -9 favorite after opening at -9.5. 
We have the Celtics at 12.55, so there is a definitive underlay here and this does bode well for the favorite in this line region.
November 17, 2023
The Celtics are also the favorites to win the 2024 NBA Championship with a payout of $375 for every $100 bet should they do so.
Boston Celtics         +375
Denver Nuggets         +450
Milwaukee Bucks         +450
Phoenix Suns         +650
Los Angeles Lakers         +1800
Golden State Warriors         +1200
Miami Heat         +4000
Los Angeles Clippers         +1800
Philadelphia 76ers         +1400
Memphis Grizzlies         +8000
Boston's number on Sagarin was 97.94.  That's around two points greater than the next rated team, the Denver Nuggets.  With a home court advantage of 2.73 currently, the Celtics line would be expected at between -5 and -5.5 if they were to host the Nuggets on this day.
Do not bet against the Celtics.  That's the lesson we have learned over the past week.  Whether there are significant underlays, overlays and more public money coming in on Boston than their opponent, the Celtics covered all their games over the past week.  It did not matter whether the line was in double digits either.
Even playing two teams within the Sagarin Top 10 ratings (the 76ers and Knicks), Boston still managed to get the job done.
Noticably, Boston appeared unfazed by a back-to-back game on November 11, beating the Raptors by quite a bit. 
11/10 - vs. Nets – Boston 10.93, Actual Line 10.5 to 11.5, On The Money, Celtics cover with 14 point win.  81% of action was on Celtics and line moved up a point.  
11/11 vs. Raptors (next night) - Boston 12.78, Actual Line 10.5 to 8.5, Underlay of 4 points, Celtics cover with big 23-point win.  63% of action on Raptors with line dropping two points to get more money on Boston.  Celtics playing the back-to-back had zero impact in the end.   
11/13 vs. Knicks – Boston 7.94, Actual line –8.5 to –10.5. On The Money to Overlay of 2.5 with 70% of action on the Knicks.    Celtics cover with a 16 point win.  
11/15 at 76ers – Boston 1.20, Actual line Celtics open –3.5 moving to –5.5 and dropping back to –1, Overlay of 2 to 4 then On The Money with Celtics winning by 10 and covering. Action 85% on Celtics at –5 and number brought down with action still high at 69% but WHY IS THE NUMBER FALLING?  Perhaps the number was falling as Philadelphia had played the night prior, losing to Indiana?
- Don Shapiro, Gambling911.com