Is the US Congress Pro Proof-of-Work When it Comes to Crytpo Mining?
Published on:
Aug/23/2022
Proof-of-Work describes the process that allows the bitcoin network to remain robust by making the process of mining, or recording transactions, difficult.  And now the U.S. Congress appears to want to know more.
Patrick Thompson of CoinGeek points out that a total of four miners were sent letters by the Congress on August 17 reuesting more information on Proof-of-Work mining and the impact it has on the environment.
Energy usage appeared to be the main issue of concern, including the percentage of that energy that is offset by renewable energy credits, how many days in the year the company shuts off its operation to support grid stability.
The letter is "less harsh" than past requests, notes Thompson.
This latest letter does support the notion that blockchain technology can have a positive impact on the world and it acknowledges that some miners are investing in more renewable sources of power.  The larger crypto mining companies, however, are still relying heavily on the nation's power grid.
"Blockchain technology holds immense promise that may make our personal information more secure and economy more efficient. However, the energy consumption and hardware required to support PoW-based cryptocurrencies may, in some instances, produce severe externalities in the form of harmful emissions and excess electronic waste (e-waste)," says each letter.
Thompson adds:
The committee fears that Proof-of-Work mining operations will hinder its goal for the United States to reduce greenhouse gas (GHG) pollution by 50% from 2005 levels by 2030 and reach net zero GHG pollution no later than 2050. But still, the committee notes that blockchain technology could lead to advancements that help the United States reach its energy goal. 
"While blockchain technology is emerging as a potentially important tool in fighting climate change, increasing demand on the grid and burning more fossil fuels to power PoW cryptomining facilities only serves to undermine the potential climate benefits of blockchain technology and hold us back from achieving our climate pollution reduction goals," the letters state.
It's a good sign that the committee is aware of the positive externalities of Proof-of-Work mining. But regardless, the committee is still looking for Proof-of-Work mining operations to become more energy efficient.
Initial requests from Congress appeared to lean in more on regulations. 
Back in April, 23 congressional Democrats called for an investigation into proof-of-work facilities.  Alexandria Ocasio-Cortez, the Congresswoman out of New York most associated with the Green New Deal, was among those who signed onto the April letter.
The theme of that letter was more along the lines of "Cryptocurrency mining is poisoning our communities."
As recently as July 16, Senator Dick Durbin tweeted his displeasure with energy consumption in crypto mining. "It's time to learn the truth about crypto.  Let's start with the obscene amounts of electricity needed to mine Bitcoin and other cryptocurrencies. Families and businesses in America will pay the price for crypto's mining ventures."
The BSV Blockchain has been at the forefront of proof-of-work and energy efficiency.
Canadian accounting firm MNP published a report in November 2021 titled "The Search for a More Efficient Blockchain," found that BSV was the most efficient network of those it investigated. This was due to BSV's unbounded transaction processing capacity and the network's use of more up-to-date hardware.
To that end, Entourage star Adrian Grenier (pictured below with a fan) has been building a nature-based community in Texas that "will have a hyper-local positive impact on the environment" and utlizes the BSV Blockchain.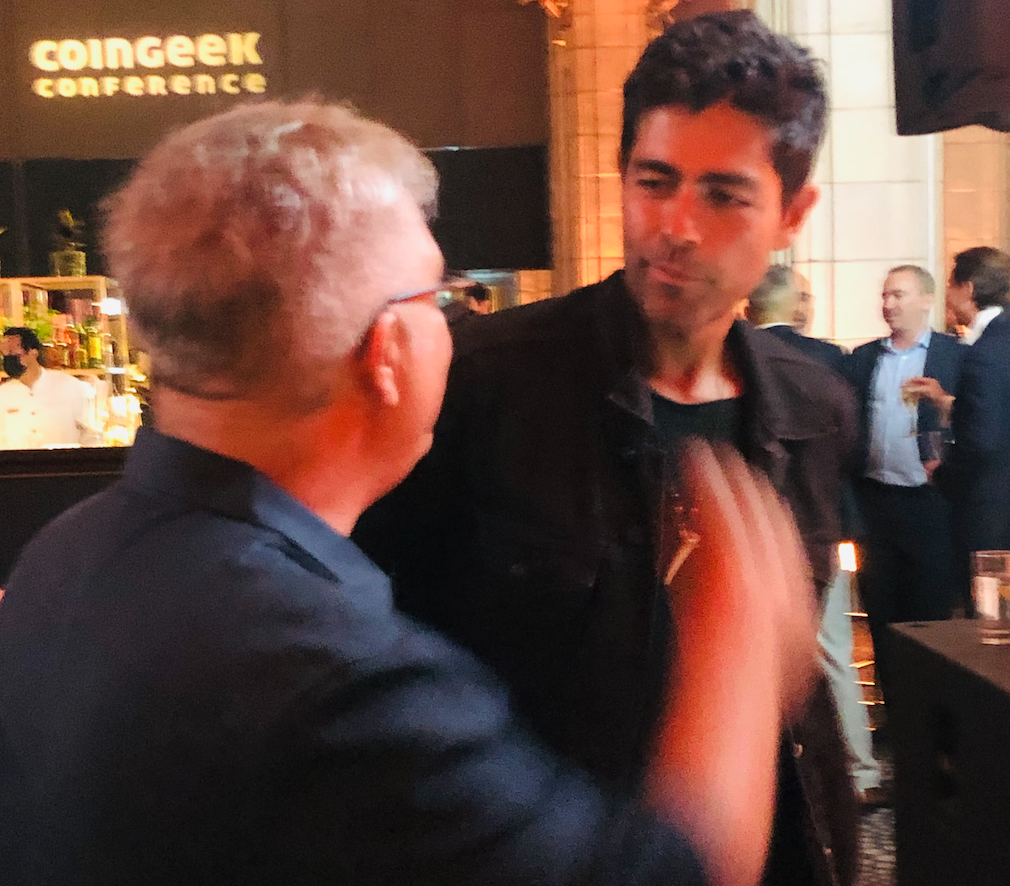 Grenier told CoinGeek Backstage: "To build anything, I want to use money as a tool, so I started looking at finance as a way to positively impact the environment by actually investing in businesses that will improve our experience on the planet. I started looking at money itself and the store of value, and crypto comes along—it creates more transparency, equity, and access to the world's wealth." 
When asked how to balance technology and the environment, Grenier said people who dismiss digital currency as unsustainable "don't quite fully understand the capacity and opportunity this technology can have. Not only on the store of financial value but also how it will help individuals become more efficient and reduce a lot of bloats."
The MNP report clears the air.
'If the same BSV transaction counts are applied to our consumption estimates of BTC for the first three quarters, where the difference in transaction count per block is most clear, the consumption per transaction would be reduced to between 181 and 221 kWh/tx — as in the last three quarters of 2020. That is a reduction of 57 to 55 percent respectively for the same periods,' MNP states.
'With greater utilization and throughput, these reductions in consumption per transaction and increase in efficiency will only improve.'
- Aaron Goldstein, Gambling911.com