The NBA's New "Most Hated", Commanders Hope to Hand Eagles First Loss
Published on:
Nov/10/2022
There's a new villain in the NBA, and the name should come as no surprise.  His name: Kyrie Irving. 
BetOnline has created a map based on a geo-tracking program that suggests Irving is "NBA's Most Hated Player", supplanting LeBron James.
From the crack staff of BetOnline:
"We collected more than 100,000 tweets from October 18 (start of the season) through November 9 with a geo-tracking program, which analyzed negative sentiment tweets, hashtags and direct keyword phrases to see which NBA player was the most disliked or "hated" in every state in the country."
For example, phrases such as, "I hate LeBron," "I hate Kyrie," "I don't like Durant," etc. were tracked in each of the 50 states.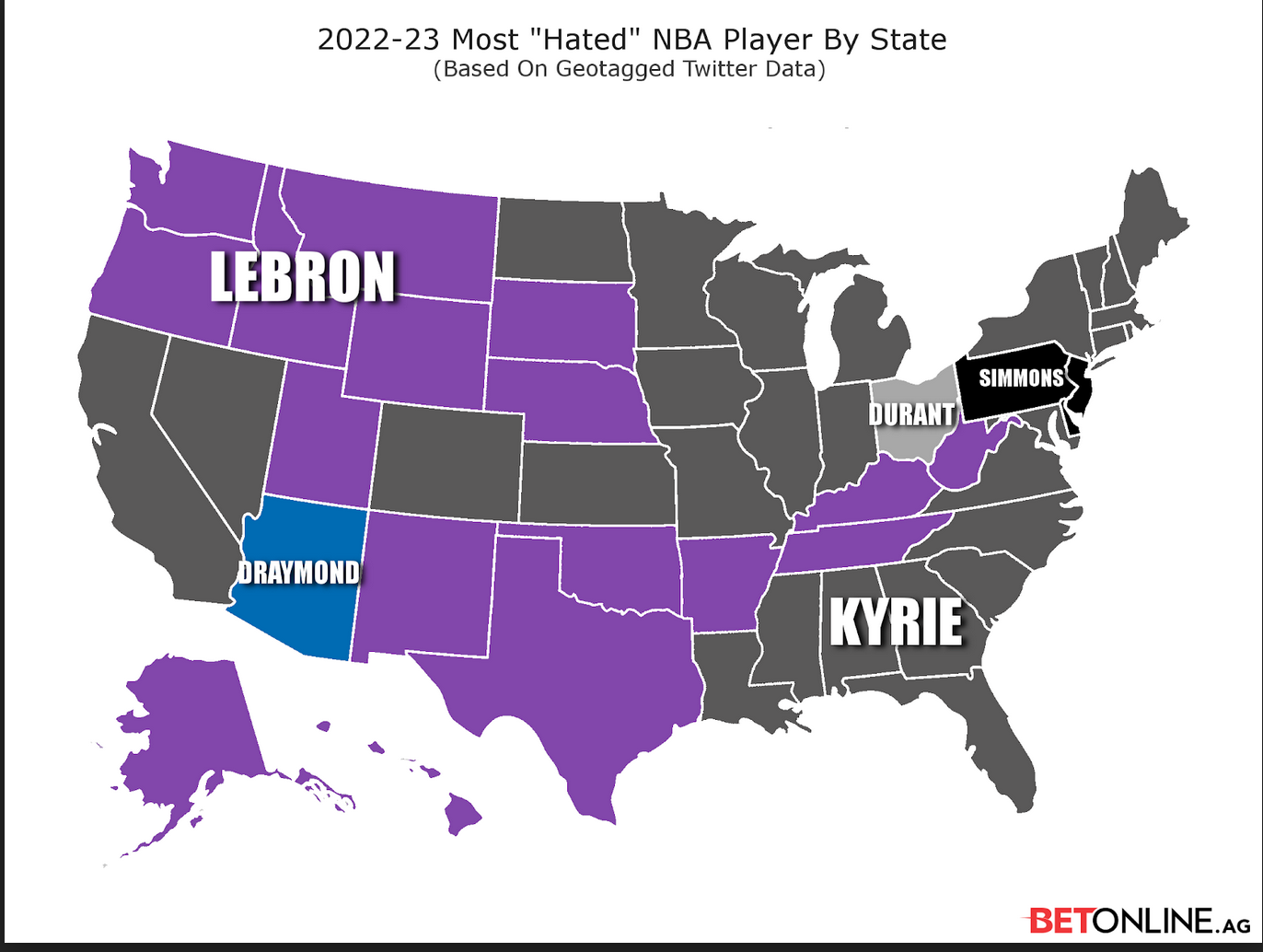 As you can see from the map, two players dominated the findings while three others were named in a handful of states. No other player beat out one of these five in any state.
The state breakdown is as follows:
Kyrie Irving - 28 states
LeBron James - 17 states
Ben Simmons - 3 states
Kevin Durant - 1 state
Draymond Green - 1 state
It's interesting to see that Simmons is the most hated in Pennsylvania and the surrounding states. And it's apparent that the Twitter folks in Phoenix have love for Draymond Green.
Commanders vs. Eagles Betting Preview
As one might expect, the Philadelphia Eagles are double digit favorites in their Monday Night Football game against division rivals Washington.
The Commanders have been dominated by Philadelphia over the years, going 2-8 against them Straight Up.
There is a -10.5 line here though and the Eagles have only covered that number three times in the last ten meetings.  And the half point matters here.  Three of the Eagles wins were by 10 points.
How reliable a line is this?  We have a number of 10.99, putting this one on the money.  This one was trending to 11.
Trends to consider include the Commanders going 2-8 Against The Spread in their last 10 Monday games and 2-6-1 ATS in their last 9 vs. NFC East. 
The Eagles are 1-6 ATS in their last 7 games after allowing less than 150 yards passing in their previous game.  They are also  5-1 ATS in their last 6 home games vs. a team with a losing road record.
Former NFL players Drew Butler, Anthony Becht and Jonathan Casillas get together to share their special picks for this weekend's Washington Commanders vs Philadelphia Eagles NFL week 10 matchup.
Carla Esparza vs Weili Zhang Full Fight Predictions
Mystic Zach and Rashad Evans discuss the upcoming Women's Strawweight Championship fight between Carla Esparza and Weili Zhang.
Below we have your prop bets on this fight.
Method of Victory and Round Betting
Rot     Fight Outcome     Moneyline
1001     W Zhang By KO, TKO, DQ or Submission         -130
1002     W Zhang By Decision or Technical Decision         +180
1003     C Esparza By KO, TKO, DQ or Submission         +1000
1004     C Esparza By Decision or Technical Decision         +450
1005     Draw         +6600
Rot     Round Betting     Moneyline
1006     W Zhang In Round 1         +375
1007     W Zhang In Round 2         +500
1008     W Zhang In Round 3         +750
1009     W Zhang In Round 4         +1100
1010     W Zhang In Round 5         +1600
1011     W Zhang By Points         +180
1012     C Esparza In Round 1         +1600
1013     C Esparza In Round 2         +2000
1014     C Esparza In Round 3         +2500
1015     C Esparza In Round 4         +3000
1016     C Esparza In Round 5         +3300
1017     C Esparza By Points         +450
1018     Draw         +6600
Rot     Round Betting Either Winner     Moneyline
1019     Either Winner In Round 1         +375
1020     Either Winner In Round 2         +500
1021     Either Winner In Round 3         +700
1022     Either Winner In Round 4         +1100
1023     Either Winner In Round 5         +1600
1024     To Go The Distance         Ev
- Tyrone Black, Gambling911.com